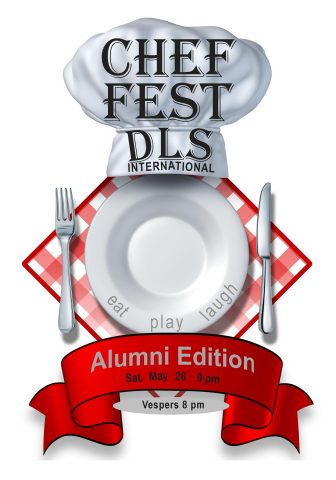 WHAT:   
Eat | Play | Laugh
   Six DLS alumni chefs will celebrate their passion for food as they demonstrate their favourite delicious vegetarian international recipes at
Chef Fest DLS
, Alumni Edition
. It's a fun evening dedicated to celebrating food, with our talented alumni chefs!  There will be food-themed games and various international booths selling their classic favourite foods. You'll even be able to sample the chef's receipes and purchase pre-made dishes!  Admission is free and the event is great for the entire family.
WHEN:
Saturday, May 26 - Worship @ 8:00pm;
Chef Fest DLS
@ 9:00pm
WHERE:
Deer Lake School, 5550 Gilpin Street, Burnaby BC
WHY:
Deer Lake School believes in giving back - from our community to the world! In March 2019, DLS students and staff will be spending a week at an international location to serve the needs of the community.  All funds raised at
Chef Fest DLS
will be used to assist DLS students to participate in the trip, and for supplies and resources to serve the local community children.
HOW:
 You can support
Chef Fest DLS, Alumni Edition
in several ways;
Rent a booth ($100) and sell food – all profits for your own ministry/organization (see document below)
Attend our fun event and purchase delicious food, drinks and games
Watch our chef demonstrations and pick up a recipe or two
Make a donation
For further details about
Chef Fest DLS, Alumni Edition
please contact
Deer Lake School 604.434.5844 and speak to
Esmon Emmons, DLS Teacher
Loretta Knopp, DLS Teacher
Gaileen Woytko, DLS Development & Operation
gwoytko@deerlakeschool.ca
Find our Event Backgrounder details here
Find our Chef Demonstrator details here
Find our Exhibitor/Booth details here