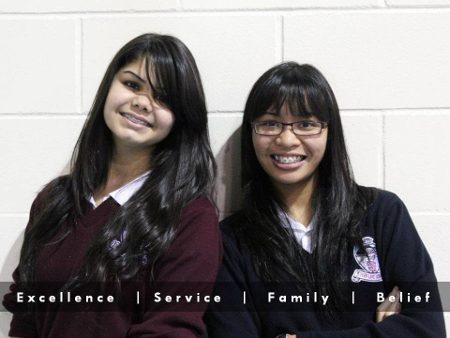 Our vision is
to enable an enriched learning program with a focus on academic excellence
to create a healthy family environment where every student knows they are valued
to develop a sense of commitment for service and responsibility toward one another, our neighbourhood and our global community
to support a respectful Christian foundation for belief, where students from every culture, faith and belief system are welcome
Our values are
Excellence & Integrity
Living a transparent, honest and accountable life that brings about our personal excellence
Service & Compassion
 Sharing God's love in selfless acts of kindness and compassion.
Family & Community
Creating an environment where everyone belongs, and is valued and respected
Faith & Belief
Growing in knowledge and understanding of God and our spiritual values
In the information age, knowledge is everywhere. Information is at our fingertips. To prepare for success in a world that is diverse and rapidly changing, Deer Lake School is determined to impart more than knowledge. We believe that to prepare students for success, they need to become critical thinkers. Students need not only a university entrance diploma, but a portfolio that is already full of life skills and experiences.

We believe the following key areas represent some of life's most important skills and opportunities. We strive to teach and provide experiences reflective of these areas from kindergarten through grade 12. We believe that a small family-oriented school is an ideal environment for students to receive individual attention, encouragement and skill development.
Communication Skills
Knowledge is useless if it cannot be accessed, critically evaluated and communicated. We believe knowing how to access, evaluate and communicate knowledge is part of critical thinking, and vital for success in this century. Whether a student is researching on their tablet, or participating in music, art, language, drama, writing, speaking, science or a carpentry class, the skill of communication is critical for excellence and life success.

Leadership
Knowledge is useless if doesn't make a difference in our world. We want our students to know themselves, to be goal-oriented, and to make an impact in the world. Teaching them and giving them opportunities to develop themselves through leadership orients them towards success and service. Whether it is through student coaching, student led programs, acts of community service or leadership through the student association, the student newspaper or yearbook, leadership opportunities prepare them for success.

Relationships/People Skills
Many brilliant individuals have faltered in life because they didn't understand the importance of relationships. We believe that relationships and people-skills are  more important than ever in the age of information and technology. Our small family-oriented school attempts to develop the skills needed for healthy relationships.

Transformational Life Experiences
Life is richer when we know the God who created us. Whether it is through an international service trip, a Bible class, or community service, it is our belief that every human being is of infinite value to God and that we are created to love and serve others. At Deer Lake School we strive to create transformational life experiences where students not only learn to understand themselves and the world they live in, but also the purpose for which God has created and gifted them.