OUR VISION
Rooted in the faith traditions of the Seventh-day Adventist  community, Deer Lake school is committed to the teachings of Jesus Christ, and we embrace a vision to be a holistic learning environment where individuals grow to their fullest potential as children of God.
OUR MISSION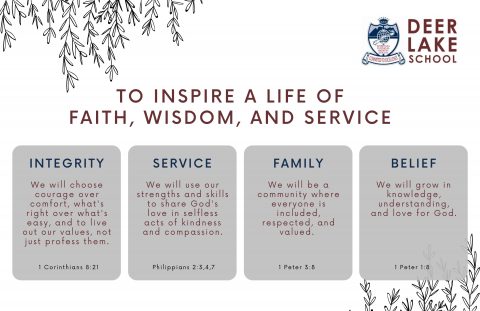 OUR VALUES
Integrity 
For we aim at what is honourable not only in the Lord's sight but also in the sight of man.     1 Corinthians 8:21
Service
Each of you should look not only to your own interests but also to the interest  of others. Your attitude should be the same as that of Jesus Christ…. who took on the very nature of a servant.     Philippians 2:3, 4, 7
Family  
Finally, all of you, be like-minded, be sympathetic, love one another, be compassionate and humble.     1 Peter 3:8
Belief    
Though you have not seen him, you love Him; and even though you do not see Him now, you believe in Him and are filled with inexpressible and glorious joy. 
1 Peter 1:8