Click here to view or download the 2019-2020 School Calendar in pdf
Click here to view or download the Nov 2019 Hot Lunch Pre-Order Form
U P C O M I N G   E V E N T S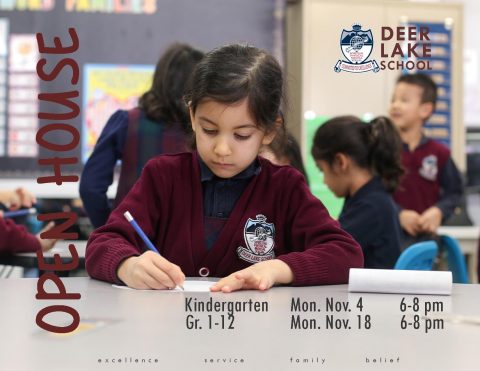 BEGINNING WITH THE END IN MIND KINDERGARTEN PROGRAM
Mon. Nov. 4, 2019    6-8 pm     Kindergarten Open House
Thank you for your interest in Deer Lake School's kindergarten! We believe that choosing the right school for your child is an important first step in his or her journey to becoming a successful life-long learner.
6-8 pm                   
Kindergarten Open House
7-7:30 pm             
Kindergarten Information Session  by Kindergarten Teacher Heather Gagnier
6:30 & 7:30 pm   
Application Information Session
Come out and meet our school staff and take a tour of the school to learn about the benefits of a Deer Lake School education. You will hear an overview of the kindergarten program from Mrs. Heather Gagnier, and attend an Application Information Session to review the steps for applying to Deer Lake School.
We begin accepting kindergarten applications on Nov. 5th.
For more details about the application process visit Kindergarten Applications here