Updates June 18
Final School Week Schedule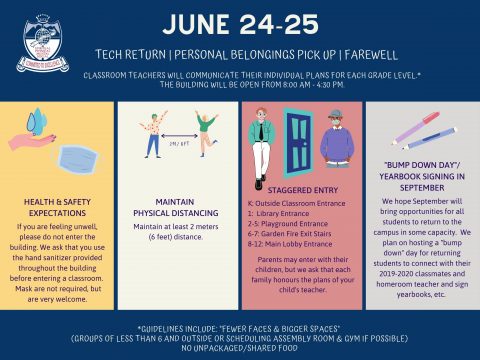 Updates May 22
DLS Safe Return to School Plan
Updates May 22
Updates May 15
Updates May 1
Distance Learning - Month 1 Feedback Form
Updates April 17
Distance Learning - Week 2 Updates April 17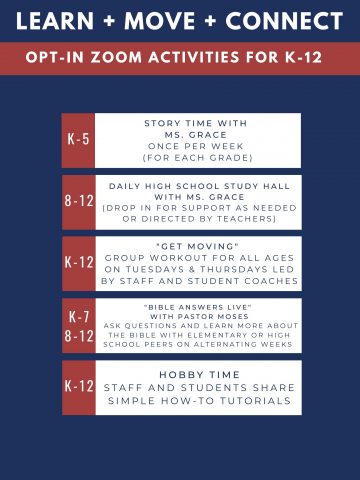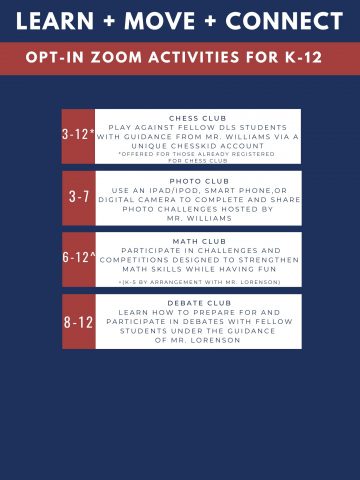 Updates April 9
A Video Message from Mrs. Brousson
Please complete our Distance Learning-Week 1 Feedback Form
Updates April 7
Updates April 2
Updates April 1
Frequently Asked Questions about Finances
Updates March 31
Letter from Principal E. Brousson, March 31, 2020
Updates March 27
Letter from Principal E. Brousson, March 27, 2020
Letter from High School Vice-Principal D. Jakovac, March 27, 2020
A Plan for Learning, March 27, 2020
Updates March 23
Letter from Principal, E. Brousson, March 27, 2020
Updates March 19
Letter from Principal, E. Brousson, March 19, 2020
Letter from High School Vice-Principal D. Jakovac, March 19, 2020
Updates March 17
Letter from the Superintendent, Office of Education, BC Conference of Seventh-day Adventists, March 17, 2020
Updates March 13
Deer Lake School Covid-19 Response Plan, March 13, 2020
Our school, like all others in BC, has suspended the delivery of education in the classroom, as ordered by the BC Minister of Health due to COVID-19. After spring break DLS will be moving to the provision of online digital learning for all our K-12 students.
Deer Lake School is closely following the guidance shared by the BC Ministry of Health, Fraser Health Authority, FISA (Federation of Independent Schools Association), BC Conference of Seventh-day Adventists (our school authority) and the BC Ministry of Education.
Our priority is to keep you well informed and to support our students in their learning in the upcoming weeks. Thank you so much for your understanding and cooperation as we work together in this unusual circumstance.  Please feel free to reach out to school administration if there are any questions or concerns not addressed above.
Some COVID-19 Helpful Community Resources:
Social Distancing for Families: Burnaby School District
Know the Difference: Self-monitoring, Self-Isolation, and Isolation for Covid-19
BC COVID-19 Symptom Self-Assessment Tool