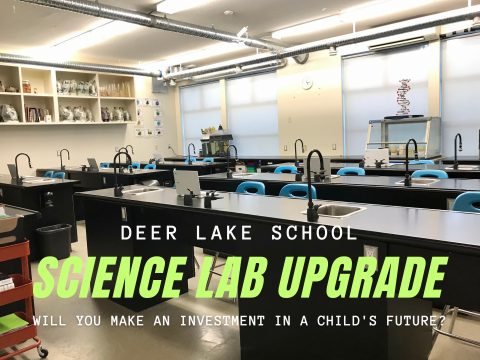 IT'S TIME FOR RENEWAL!
In today's world, students need a strong foundation in science, technology, engineering and math (STEM). Students need to be exposed to real-world applications, and a strong school science lab is imperative to that opportunity.
Deer Lake School is proud to have bright, talented high school students who work hard at acquiring the best STEM education possible. But their access to that experience is impacted by working out of a science lab that was built in 1985. While the lab has strong bones, it is extremely outdated in both function and design because it needs to be flexible enough to accommodate both teaching and collaborative learning.
In the summer of 2021, Deer Lake School would like to give our lab a long-overdue upgrade - and that's where you come in! Would you consider a donation this year to a great project? Your donation will go a long way toward making a difference in a child's scholastic success.
Our 2021 Science Lab upgrade will include:
removing all the present built-in counters and broken plumbing
installing new sinks and work counters around the full perimeter of the room
purchasing new modular furniture that allows for flex space
creating an access door to the chemical storage area
adding new flooring
The project cost is estimated at $150,000
If you chose to make a donation of $25 or more, you will receive a charitable tax receipt. Please complete a Charitable Donation Form  (open fillable pdf using Adobe Acrobat) and email to accounts@deerlakeschool.ca.
Thank you for supporting our STEM education program at Deer Lake School! If you have any questions about this project, or how to make your donation to our school, please contact Gaileen Woytko at gwoytko@deerlakeschool.ca