Last year our playground looked like this picture - old and sad!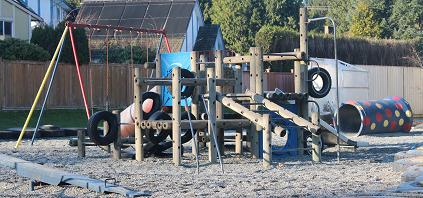 Our old Big Toy wooden playground was 30 years old, and very tired. And then this summer we were so blessed to be able to install the first half of a whole new beautiful playground! Our students have had so much fun playing on the new playground equipment this fall. In the words of one child, "the new playground is simply marvelous!"
Unfortunately, although the new equipment is awesome, it's only half of what has been designed for the site. The area is now overcrowded, there just isn't enough to share with everyone, and we are all excited to have the rest of our playground completed.

This Christmas, will you help us raise money toward our $40,000 goal to finish our playground next summer?
Maybe you or someone you know owns a business that may consider being a playground sponsor? These documents will help you understand the opportunities for sponsors:
Playground Case for Support - Why Build a New Playground?
Playground Sponsorship Opportunities
Playground Donation Form

If you have questions about how you or your company can partner with us in our Playground Transformation Project, please contact Gaileen Woytko, Development & Operations at Deer Lake School.