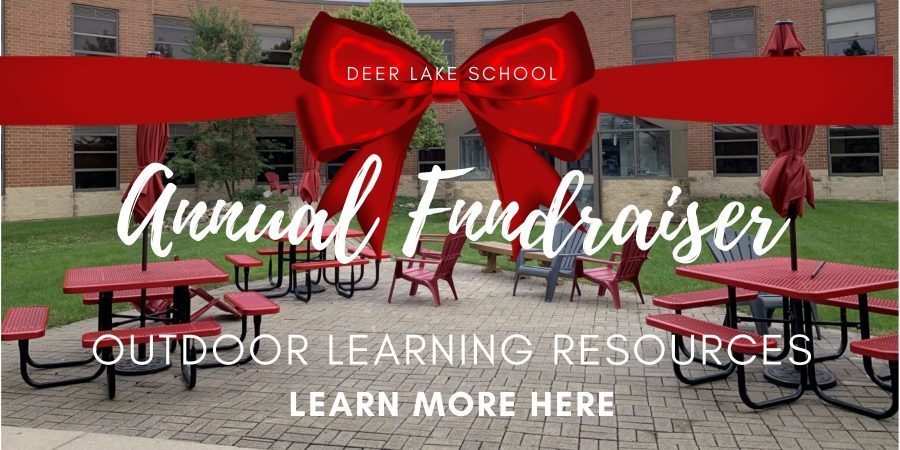 As we move through another snowy winter, we just can't wait until spring!
Learning to live with COVID-19 these past months has reminded us all of the benefit of having lots of outdoor learning spaces. At Deer Lake School we enjoy our great playground, large garden and courtyard area - but we've also found that we have far too few tables, benches and chairs to efficiently accommodate classroom seating. More outdoor learning space furnishings would make our time outside more focused and effective.
Would you consider helping us provide more resources for our outdoor learning spaces this year? We'd love to add these items to several areas around the exterior of our school next spring, and with your help, we can create a much stronger outdoor learning experience for all our students, from kindergarten to grade 12.
If you choose to make a donation of $25 or more, you will receive a charitable tax receipt. Please complete a Charitable Donation Form  (fillable pdf using Adobe Acrobat) and email to accounts@deerlakeschool.ca.
If you have any questions about this project, or how to make your donation to our school, please contact Gaileen Woytko at gwoytko@deerlakeschool.ca
Take a look at last year's Christmas project:
We are so grateful for your support with last year's DLS Christmas fundraiser, which was to upgrade our science lab. We completed the last equipment installation just last month, and it is already providing a new fresh start for our high school sciences. Thank you so much for your generosity in helping us raise the $150,000 that we needed to make this happen!